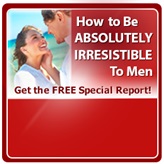 Our Special Reports – Just For You!
"How to Be Irresistible to Men: A Man's Perspective."
DID YOU KNOW … that what women think is irresistible to men is not necessarily what men consider irresistible? When you know the secrets I'm about to reveal, you'll render a man powerless in your presence. I'll share with you…
– The single thing a woman can do that always increases her attractiveness.
– the one quality that is more appealing to men than looks, intelligence and anything else. In fact, research has confirmed this.
– What most women do that gives men the wrong impression, and how you can quickly change this.
There's more and it's just waiting for you.
"The Biggest Mistakes Women Make that Cause Men to Leave."
Nowadays, there seems to be a widespread epidemic of men leaving women with whom they used to have a good relationship.  The reason men leave is rarely what the woman thinks it is.  You must read this FREE report now to learn:
– Why your good intentions may drive him away.
– How ignoring his emotional needs can cause a slow death to the relationship.
– What you can fix in a man…and what you can't and even more!
Sign up now and You'll never look at your relationships — and your behavior in relationships — the same way again.
"The No. 1 Skill You Need to Motivate, Inspire and Mold Your Husband –
and Transform Him Into the Husband You Want Him to Be"
Discover counter-intuitive strategies for harnessing your tremendous
power as a wife, and using it to dramatically improve your marriage.
— and transform your husband into the ideal husband he could be. You'll be amazed to learn…
– How you can help your husband read your mind.
– What your husband craves from you that he'll do almost anything to get (and it's not just sex).
– The power you have to arouse is desire for you….all over again.
Don't wait, these insights will awaken his passion that you thought had vanished!
"The Best — and Virtually Unknown — Places to Meet Single Men"
Are you a single woman who thinks good men are hard to find?  Complain no longer — and forget about bars, dance clubs, singles mixers and the like!  Here's a treasure trove of little-known "hot spots" that are unconventional where the fishing's great for single women — and you can increase your chances of meeting your dream man a hundredfold! I'll also show you..
– 8 words that will make you irresistible to a man.
– How to make a man feel completely comfortable when he first meets you.
– Examples of easy ways to approach a man that are natural…and appealing!