Inside This Course I'll Show You…
Exactly what each of the 5 bonding stages are and how to spot each of them in a man…
Plus what to do if they "loop" inside stage 3 and how to get them past it.
Not knowing which stage your man is in is the #1 mistake women make that can seriously mess up what could've been an amazing relationship.
I'll also reveal…
What it really means when a man says "I love you" during the adrenaline-based stages 1 and 2… and why it's so damaging to believe him. It's not that he doesnt mean it. He truly believes what he is saying… but he's not really in love with you the same way you may be with them.
But most importantly I'll talk about why every man must go through stage 3 in order to truly bond with you… and how ignoring this can lead to breakups, divorce, cheating… or worse.
And more importantly… the 3 "death sentences" that can irreversibly end any chance of your man bonding to you. DO NOT say them during Stage 3… under any circumstances.
Next, you'll discover…
The real reasons why good boyfriends or husbands suddenly show up late… delay returning calls… listen less often… forget promises… and "check out"… even if they've already bonded to you!
The #1 mistake nearly all women make that literally blocks a man from ever moving past Stage 3… stunting the relationship… leading to a slow decline and loveless relationship.
How to quickly detect and get rid of toxic men. Men who are forever stuck in stages 1 and 2 and can never bond with any woman. Avoid these men. Period.
And much, much more…
This is Just a Small Sample of What's
Inside…
This course based on my lifelong work… which gives you the exact tools and techniques…
The "trigger words"…
The "phrases"…
The questions…
That nudges your man from one "Bonding Stage" to the next…so that he's obsessed, devoted, and feels a wave of love every time he thinks of you… all the while thinking – it was his idea.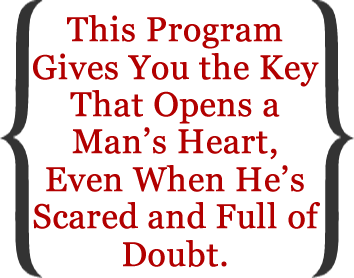 If You're Reading This Right Now


I Know One Thing About You

Whether you're between relationships and find yourself repeating the same patterns (Like Sherry did)… or you've been in a relationship or marriage for many years…

SOMETHING'S not working in your love life…
And here's what I tell all my new clients: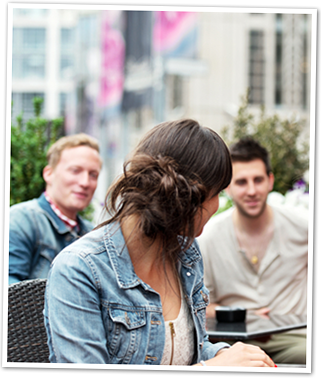 In your heart, you know what an intimate relationship should feel like and the fact you're reading this tells me… you're ready to have that experience.
But I want to be sure this is what you really want.
Are you ready to have X-ray vision into a man's heart and soul? To know what Bonding Stage they're in… and how you can "shift" them from one stage to the next… simply by saying a few words at the right stage?
Are you ready to change how men respond to you?
Most importantly— Are you ready for the one chapter of your life to FINALLY be written where that strong secure man takes your hand— and never let's go?
Where you're not repeating the same patterns… and men treat you with respect?
Because if your answer to these questions is yes…
Then I'd Like to Invite You to be a Part of a Small, Private Test Group… For my "Bonding Stages: How Men Fall In Love" Program…
As I had mentioned already… I currently charge over $400 a session for my private clients…
Most of my clients… on average… see me for nine or ten sessions… investing $3,600 on themselves.
What I've done with my program is put these ten sessions into 5 online modules. You can watch them anywhere… whenever you want.
In other words… you'd get the exact same content they would… but you wouldn't need to fly to Atlanta.