You're a single woman, in your twenties or thirties. You're looking for marriage and kids but you don't want to waste your precious 'fertility years' dating men who are not
interested in or ready for marriage and family. Good for you! Here's the conundrum, and the solution.
The Conundrum: Understanding a Man's Intentions
As a professional matchmaker in Los Angeles, I've orchestrated over 1000 marriages over these past 20 years, and I love to watch statistics. Of the 26,000 single people I've privately inventoried, women are three times more likely to check the "I want to be married" box. Men are more likely to say "Maybe, depends on who I meet" and there's an even bigger difference in the responses to the question: "Who wants to have children?"
Women will say Yes to that question 4-5 times as often as men who again, tend to check the box, "Maybe, depends on who I meet."  And yet just as many men are marrying as women, and just as many men are fathering as women are mothering!
Here's what my experience in professional matchmaking and dating coaching has demonstrated to me:
A man needs to have a woman in his life before he can envision the level of commitment that marriage and kids is for him.
Today's single woman often makes the misguided assumption that men are commitment phobic, that they really just want to play the field and they don't want to be with just one woman.
But, before we buy into that frame of reference, let's take a step back to look at the marriages that have fallen apart. Two thirds of the divorces in the U.S. are initiated not by men, but by women. Interesting, right?
It's possible that as women we might commit more readily than men do, but we might be conditionally committal; more likely to abandon the marriage if something goes awry (he loses his job, he picks up an addiction, he's unfaithful, or the relationship loses its sparkle).
The statistics reveal to us that men actually prefer to stay in the relationship.
The message?
Don't dismiss a man too quickly if he's not jumping to volunteer that he's on board for marriage and kids.
The Solution: Get Your Message Across ASAP
Is he looking for marriage? Does he want to have kids?
To a single woman who's dating in her 20's or 30's, there's no question that's more important to ask, and yet we don't want to come across as being "the girl with the ticking clock" – so here's the how-to:
• If you're dating online or if you're privately registered with your local matchmakers, make it crystal clear on your profile that you're seeking single men for marriage and a child (or children). This way, the guy who's uncomfortable with your plan will run, not walk in the other direction.
• Before saying Yes to a man who's inviting you out, qualify him for this important element by saying something like: "Sounds like fun. Could be a good idea, if we're both dating with the same purpose.
I'm a good fit for a man who is a Yes or a strong Maybe on the issue of marriage and kids. What do you envision for your future?"
• If you're uncomfortable asking this question right up front, it's OK to drop the question on the first, second, or third date. Be very careful not to let attraction and romance take over before you get the answer to that pesky question.
Once you've bonded to each other, which always happens for women during intimacy, you can lose weeks, months and years of your life dating a man who might never be the one to give you the marriage the family you so desire.
• If you are sincerely looking for marriage and motherhood, do not become exclusive with a man until you know you are on the same page regarding your long-term plans for relationship.
He should be dating ONLY you and you should be aligned on the type of relationship you want for yourselves, both in the present and for the future. If the plans don't line up, part as friends and move on lovingly and respectfully.
Website:  www.JulieFerman.com
Phone: 805 371 9557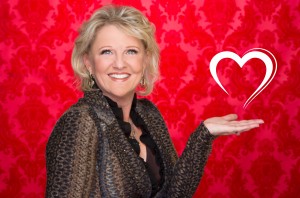 Email:  Julie@JulieFerman.com
Julie Ferman is a professional matchmaker a seasoned dating coach, media personality, professional speaker, singles events producer and a consultant to the matchmaking and dating industry. Her mission is to dignify and streamline the love search process for selective, relationship-minded professionals. Julie provides a full menu of dating coaching, personal matchmaking services and professional referrals to single men and women throughout the U.S., Canada and worldwide.
Julie met her husband of 23 years through a proactive love search of her own and she has spent every day since helping singles make that all-important initial connection with the right people and to master the art of dating. With over 1,100 marriages to her credit, she knows the love business and is eager to share her secrets.
Julie Ferman was awarded by iDate and Online Personal Watch the Best Matchmaker award in 2010, 2011, 2012 and 2013. We've seen Julie on Dr. Phil, Good Morning America, The Today Show, NBC's The Match Off, NPR's The Brian Lehrer Show and Fox News, and we've seen her in The Wall Street Journal, The New York Times, The Christian Science Monitor, LA Times, Woman's World, Westlake Magazine and The Orange County Business Journal.