21 Ways To Rekindle the Romance
July 15, 2017
Long-term relationships bring about many benefits, such as comfort, security, companionship, and always knowing there's someone in your corner that has your back. But for all the many benefits, there's also the potential for a relationship to fall into a mundane habit-cycle devoid of the initial spark of excitement that drew you together. Breaking free of this relationship habit-cycle can put the zest back in your relationship, moving you from fizzling to sizzling.
FREE GUIDE: Transform Your Husband
Motivate, Inspire, & Mold Him
Access Your Free Guide Today 
Here are 21 ways that you can begin to rekindle your romance, but if you want to make a permanent change to your romance equation, then click here to discover why relationships stagnate and how you can rekindle the romantic connection.
1. Put it on the calendar.
Schedule regular date nights and take turns planning it. Don't simply go to the same places over and over, variety is the spice of life.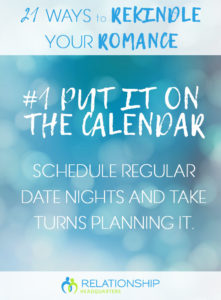 2. Set the scene
Use candles, music, flowers and/or sexy clothing to create a sensual environment. The more of your 5 senses you experience with each other, the higher your arousal rises.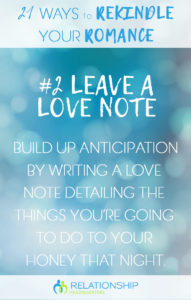 3. Act like teenagers
Make out in your car or in the back of a dark, movie theater. Remember, romance is about playing and no one does this better than teenagers.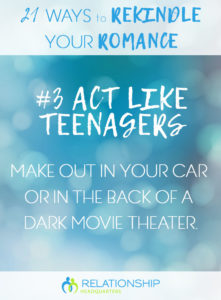 4. Leave a love note
Build up anticipation by writing a love note detailing the things you're going to do to your honey that night.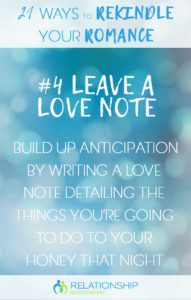 5. Go back in time
Break out old photo albums and memory books and revisit how your love grew over time. Fond memories are a crucial building block for deep intimacy.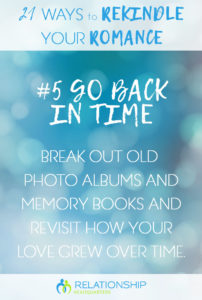 6. Avoid the bedroom
Rekindle the romance in other rooms throughout the house to add a little spice to the equation. You want the bedroom to be just ONE of the places where you feel passion. If it's the only one it begins to put too much pressure on each other to feel a spark "every time" you jump into bed.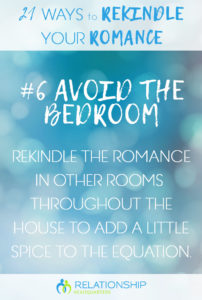 7. Rub it out
Schedule a couple's massage to release stress, while building up tension. When you're together you'll leave both feeling relaxed and less guarded with your partner.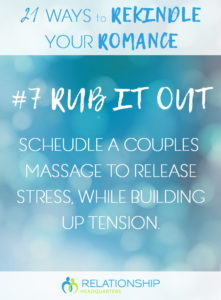 8. Be flirtatious
Flirt with your partner like you did when you first started dating. One thing married women often forget is this – women flirt, men, respond. Once a woman stops flirting with her man, he doesn't have anything to respond to.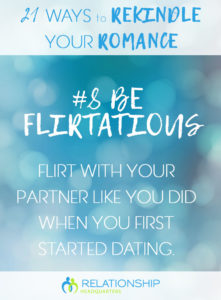 9. Use all 5 senses
Combine sight, taste, smell, touch and sound in the bedroom for a fully immersed sensory experience. Find out what your partner likes and add a new scent or perhaps a certain song turns you on.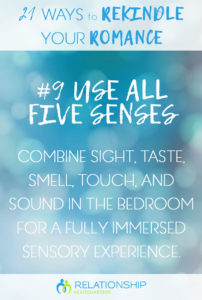 10. Be naughty
Whisper something sexy and inappropriate in your partner's ear while in public. Tease now, please later because anticipation is one of the greatest aphrodisiacs.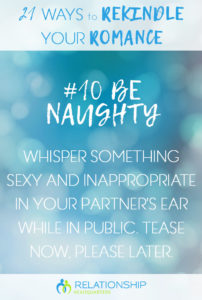 11. Hit the bars
Pick up on your sweetheart like you're making your move for the very first time. Everyone likes to be desired. Even though you both know it's not real, just having your man "hit on" you can stir up emotions you thought were dormant.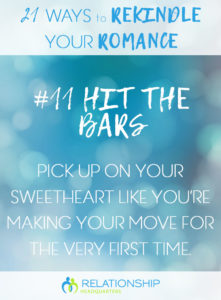 12. Cook together
Wear aprons, and nothing else, while you prepare an aphrodisiac dinner. What starts in the kitchen often ends up in the bedroom.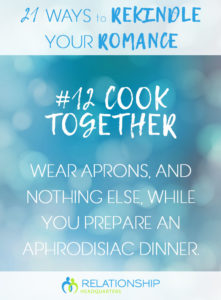 13. Share pillow talk
Chat about the sensual things each of you enjoys most, then put the pillow talk into action.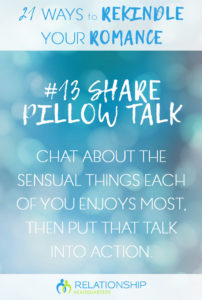 14. Get wet
Take a shower or bubble bath together, making sure to lather up every inch of one another. Need we say more.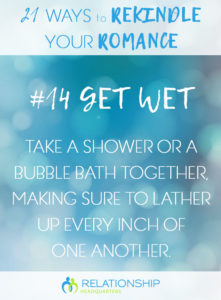 15. Read in bed
Grab a steamy, erotic novel and take turns reading to each other in bed at night. Share your fantasies with each other and notice how connected you feel when you have their undivided attention.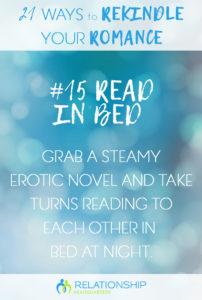 16. Send an invite
Surprise your sweetheart with a sexy calendar invite detailing what's in store for them later.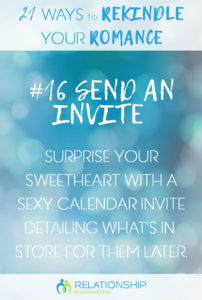 17. Leave a trail
Notes, rose petals, candles, or your freshly removed clothing, are all great ways to get your honey from the front door to the bedroom.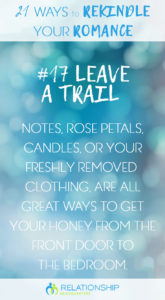 18. Just because
Spend a week leaving small, meaningful daily gifts for your sweetheart… just because and just to remind them you're still crazy about them.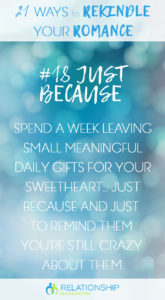 19. Go shopping
Head to the mall together with two $50 bills, then set a timer, split up, buy each other something and get back together to talk about what you bought for the other and why.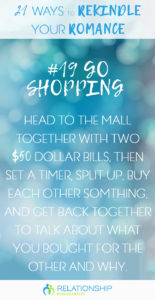 20. Create a list
Write a list detailing all the things you love about your partner, then have them read it aloud.
Or
Hide it in their wallet or pants pocket. They'll get an unexpected surprise that will light up their heart when they least expect it.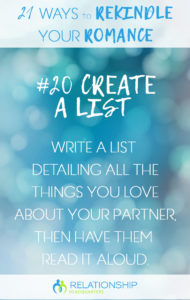 21. Make a playlist
Create multiple playlists for various occasions – sexy, sensual, romantic, nostalgic – then enjoy listening to them together.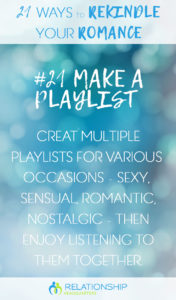 Remember, it's normal for relationships to stagnate over time, but the key is recognizing when it's starting to happen and doing something about it. If you're ready to do something about it, then click here to learn why relationships stagnate, and how intimacy triggers can help you overcome this.
Which Program Speaks To You?
About The Author – Bob Grant, L.P.C.
Bob Grant is a Clinically Trained Relationship Expert who's been working with women for over since 1997. He helps women create successful, satisfying, and fulfilling love relationships by simply understanding men.
Click here to learn more about Bob.